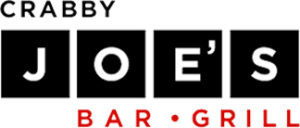 Modern, High-Quality Food & Casual Dining
Crabby Joe's Bar Grill is a modern, casual dine-in restaurant with a focus on high quality and great value. With attention on sports and humour, Crabby Joe's provides a perfect environment for friends, families and sports fans looking for the best possible dining experience.
Crabby Joe's candid, dry sense of humour has had guests in stitches for over 20 years. His charm has turned visitors into raving fans and created a personality that is dependable and true. Crabby Joe has seen it all – times change, but his unwavering standards for the restaurant have not. Like a drill sergeant, Joe runs a tight kitchen and sets the bar high for fresh ingredients, chef-driven recipes, quality preparation and unrivaled hospitality. In fact, Joe's a pretty tough guy to satisfy.
The revitalized brand image is defined by a bold new logo, that delivers a curb appeal and vibe that tells people that something new is happening at Crabby Joe's. The décor has been elevated with rich tones and textures; but the experience is welcoming, relaxed and unpretentious. The main menu also tells the Crabby Joe's food story and is peppered with Joe's usual brand of dry humour.