Obsidian Group Inc. Contributes $40,100 to Bentley's Journey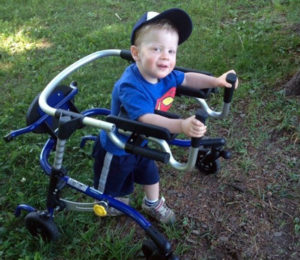 On July 8, 2015, Obsidian Group Inc. hosted its 9th annual charity golf tournament to a sold-out crowd! At the event, we were thrilled to announce that we raised $40,100 through the support of our generous participants.
This year, Global TV was present as we donated the proceeds to Bentley Mitchell, a three-year-old boy from Guelph, Ontario who was diagnosed with Cerebral Palsy, a condition marked by impaired muscle coordination, typically caused by damage to the brain before or at birth. Doctors originally said he could not walk, sit, or talk. Today, he has an active personality and wants to join his brothers playing hockey and baseball. Unfortunately, Bentley cannot walk on his own without the assistance of a cane or walker. Bentley requires a $100,000 surgery in order to be able to walk. This procedure is scheduled for December 2015 and can only be performed by a specialist in the United States.
Melissa, Bentley's mother, has dedicated the past two years to raising awareness. As we all have parents, children or siblings we all understand how difficult this time may be for Bentley and his family. To date, in addition to the $40,100 Obsidian Group Inc. contributed, Melissa has raised over $16,000 through a GoFundMe.com campaign. We are extremely pleased to be able to help Bentley and Melissa towards reaching their goal.
You too can contribute at http://www.gofundme.com/bentleysjourney.
Read our more about the story here.